BCS Title Game, Southern Poker Championship, and other tidbits... part four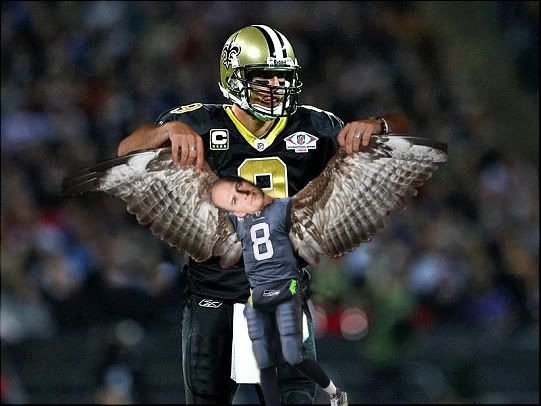 Obviously, with the PCA going on in the Bahamas and the Beau Rivage
casino
event just about next door there is a lot of poker for me to think about, and yet, I can't stop writing about the BCS game, it's like I'm stuck to a row of
casino slots
and can pull myself away. Early January, has clearly become the sweet spot for football in this country. No longer New Years day, the action is fast furious through 10 days of the first month of the year.
Talking about the BCS title game and I got a little side track talking about the Saints game this past weekend.
And by the way to stay on this tangent for a little bit longer, I find sportswriters using the Seahawks win justifying why the playoffs shouldn't be revamped to be just stupid. Granted, in response to those that say the Seahawks shouldn't have been allowed in, yes, they answered that (but they won their division of course they should be in), but to a lesser degree to counter the belief that things should be tweaked the Seahawks win did the opposite.
New Orleans was one game away from being the one seed and had to go on the road against a team with a far worse record.
There should be a simple, easy to employ rule, if you don't have a winning season and you still win your division, you don't get a home playoff game (exceptions obviously being if the wildcards have the same record or worse than you). Seattle won their division so deserves to be in the playoffs, they didn't deserve to host a game, in front of a crowd that I mentioned last week might be a difference and it was one of them.
If anything their win validates why they shouldn't have the deck stacked in their favor with the worst playoff record of any team in league history. And btw, winning doesn't prove much of anything in the long run. This is the NFL any team can win any week especially with a hungry home crowd. There isn't that much difference between the best team and the worst team.
Okay, tangent over, Oregon also has that underdog's advantage that Seattle enjoyed. Granted some teams could be overwhelmed by the
Cam Newton hype
, the fact he dwarfs them in person, and mentally lose before taking the snap, but Oregon isn't one of those teams. They'll just be loose and ready. So, if it's close I kind of like the ducks.
Oddly, I read how this is the hardest ticket to get a hold off in history of American sports. Guess who had the option to buy two at face value. I have a friend with a job in a spot that has access to the tickets. In advance of the SEC championship game I asked if I could get two, wanted to hook my parents up as they are Auburn Grads and Auburn football is about the only sport my mom has ever cared about. They have lived through 50 years of Alabama, or the voters, or probation spoiling any shot of an Auburn national title, so I wanted them to go. In many ways Auburn has been the Red Sox of college football.
Only problem, I was told I couldn't sell the tickets if Auburn didn't make it. My
parents are around their 70s and had no interest in an Oregon-TCU tilt. Me neither. Travel and my mother's problems with her legs were going to make it a problem even if Auburn did win. So, I declined the tickets. Now, I'm seeing that ticket brokers are basically paying through the nose for seats and those same tickets I could have gotten for face value would have been worth thousands.
I regret that I didn't just okay the tickets and force my parents into going, something I'm sure they would have thanked me for after the fact, despite the trouble it would have caused in the logistics of them getting to the game and getting around town.
Then in the back of my mind, I'm wondering why I didn't just go. Then of course, I'm wondering why I didn't just buy two tickets and then sell them anyway for a huge profit if my parents opted out. Oh yeah, I didn't do that because I'm an honest guy. I gave my friend my word I wouldn't, so of course I wouldn't.
Still when I read articles like this it's hard to wonder what it'd be like to be dishonest.