Monkey's Minions, WSOP Thoughts...
hat they gave everybody that cashed the main event
Wow. I'm honored and humbled. For the third year in a row, I've been selected to be a minion. Huge thanks to Will Souther who runs this little investment group and to all the people that buy shares of the players. It's the high point of any poker player's year to play in the WSOP Main Event and to have a seat locked up in April is thrilling, awesome, and comforting. Thank you so much everybody!
My first two years I lasted the longest of the Minions (that's why I got asked back) and last year did the same cashing as I made making a run to almost the top 200 players. (Btw, had they paid the top 15% the first year, as they do now, I would have cashed then too). In the aftermaths, I don't think I realized how well I ran to go pretty deep both years.
Last woman standing Kelly Minkin, me, and tournament chip leader at the time on my left. This table also featured 2015 November Niner Thomas Cannuli who stood out as an awesome player and several other studs. HARD. Maybe, I was lucky to be so card dead then.
The first year I was all in once (that tells you all you need to know in how that went KK no good v. jj).
Last year, I was all in only three times. On day two, I could only beat a bluff and called off after maybe the longest tank of my life. I was good. Then I had AA, I saw a 3bet and then a 4bet before me including November Niner Matt Jarvis.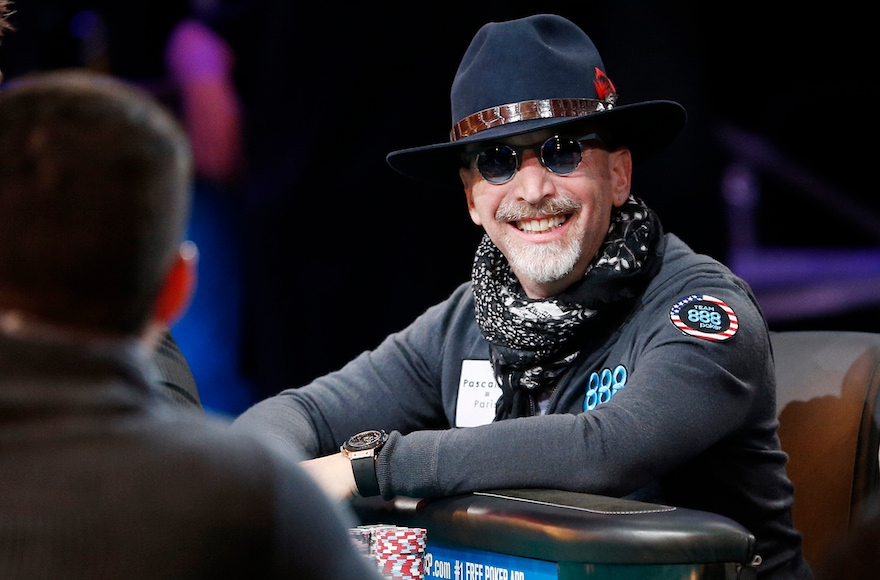 Neil Blumefeld at final table
I knew I didn't have enough chips to make them fold and knew they knew it too, so while I had a chance for a triple up I had two fade two players instead of one. They both called. I beat AK and 1010 to right the ship on a day when eventual 2015 November Niner Neil Blumenfeld made a terrible play against me to cripple my chips earlier.

I say terrible because I asked Neil about the hand afterward and his rationale for calling me was garbage. I wish he had said "I had a read," but instead he gave a rather silly reason for calling four streets of bets by me. He literally could only beat a bluff or the exact hand I held (which he didn't even consider a monster draw that didn't get there). Truly a nice guy, but it was hard to pull for him in November because that hand stood out so much for me. So many other players have a fold button in that spot. But he was running insanely good so a lot easier for him to call.

My third all in hand last year... again my downfall was all-in with Kings this time v. Ace Queen. Weirdly when the kid called I felt I was doomed. Sometimes you just know when you are going to hold, sometimes you just know when you are going to suck out, and sometimes you just know when it's over. I readied myself to leave the WSOP. This time the flop and turn were clean. As the dealer peeled the river, I allowed myself to think just for a second maybe my gut was wrong, maybe there is no such thing as a sixth sense. In my head, I allowed myself to consider with that double I was going to have some chips to battle and they were about to move us to the TV table.

I liked my chances against the other players-it actually might have been my softest table of the Main Event crazy as that sounds considering how deep we were. Since Norman Chad scouted us in the early morning and decided we'd make good TV, I planned on ratcheting up the aggression if I had any chips. Pretty sure most of the players didn't want to risk busting not only because of the money but for the chance to show their family they made the telecast by sticking around that table for as long as they could. Felt like a bubble situation +100. Who knows if that plan would have worked but my focus wasn't about the TV it was about leveraging the table to accumulate more chips.

Then the dealer turned over Barry Greenstein, an Ace on the River, and my Main Event was over. I was gutted. Just like Monkey who went out v. Elisabeth Hille Kings were my downfall again.

Anyway, I now know that I got extremely fortunate in one perspective, that I battled for days with very little chance of elimination. I felt I played really well too. For example, I didn't go broke and almost folded (yes) top set correctly (again Kings (that hand) that improved) vs. a flush in a blind v. blind battle (only three hearts on board). Yeah, that one will stay with me forever. I also hero called multiple times against some aggros including v. pro Dan O'Brien to keep accumulating chips. That said, it's a marathon and it's as much avoiding land mines and potential disasters as it is making good decisions. Some things you can control and some things you can't. My strategy to pot control and limit the variance worked both years.

I hope I run as well as I did the last two years, and I'm putting in the work (studying) to play as tough as I did last year. Thanks again everybody for the opportunity.
Also, I will be playing some prelim events and probably get to Las Vegas a week or so before the Main Event. I will be selling a package for those events and can facilitate anybody that wants to purchase shares of the Minions. Email me at ezedcota (for spambots sake separating this address... now you obviously plug in the old @ sign) then end it with yahoo.com if you want information about what I'll be playing. Though it's probably easier if you contact Will directly (details on the Poker Monkey blog) if you just want a piece of the minions. Shares are $200 a pop for that. I'll be buying as I always do to support the other minions.